Dean Scavetta's got a dry, self-effacing sense of humor and a strong New Jersey accent, which he attributes to growing up in a "majority Italian neighborhood" in South Jersey for all his life.
Dean is entertaining, even charming. But when he starts talking about Adept, it's clear he's incredibly driven to exceed expectations. Our customers agree. In fact, his raving fans regularly give him high praise for his support.
"I am a Dean Scavetta fan," states Don Adams, Document Control Supervisor, at Purecycle. "His work ethic, commitment, tenacity for excellence and follow-through has shown time and again. Dean's knowledge of Adept and dedication to the client has been instrumental in providing superior support."
Adds Bill Beard, Manager, Engineering Services, of Agilent Corporation, "Dean's exceptional willingness to always go the extra mile for his customers, coupled with his friendly demeanor and great sense of humor, enable him to be a true 'value-add' technical resource for Adept."
The accolades don't go to his head. Dean's a strong believer in "working hard and never quitting," which means ending the day with no open cases and making sure every call is a win-win for the client and the team.
Dean has worked at Synergis for five years and is one of four Document Management Helpdesk Technicians at Synergis. The Helpdesk team is a tight pod, which consistently achieves #1 rankings for Best Support on G2.com, a prestigious review site where customer reviews reign. The Synergis Helpdesk has also achieved #1 ranking on Helpdesk International for three consecutive years.
As the longest tenured teammate, Dean assists his colleagues when he's not on a call himself.
Says Josh Diehl, "Dean is always there to help no matter the problem! He's a great asset to our clients and our team at Synergis."
"I've known Dean since I worked at Dow," states Jonathan Mullins. "While there Dean was always professional and prompt when I had cases with him. Since I came to Synergis Dean has been the same. He is always willing to help me whether meeting with clients or offering to help me testing for cases. He does the same for the other helpdesk members also. He's a valuable member of the helpdesk team."
Dean experiences Synergis as a place where he gets "to work with great people in a family atmosphere." It's also where Dean can put his 25 years' work experience in IT and Helpdesk to work.
Dean's start down the path to Helpdesk, was at Technical School, where he got an associate degree in Marketing, and an A+ and MCSE certification. He worked as a computer technician and had his hand in everything from hardware replacement to virus removals to stacking servers before moving to Helpdesk.
Then, for 20 years, he worked at a "very big" company that developed private label mortgage applications for marquee clients like Merrill Lynch, Bank USA, and Bank of America. He was part of a team that supported over 15,000 users.
"It was corporate America," says Dean. "I worked in one of four buildings in Mount Laurel, New Jersey that housed 10,000 people in a building."
"We built the software from ground up. I worked with the development teams and QA teams. We private labeled the software to customize for each client. I did support and trouble-shooting for software that we sold to lots of clients. I even got my Green Belt in Six Signa. I've seen a LOT."
I asked him about his toughest support call.
"It was one of the bank executives," he recollects. "He calls and tells me his wife just threw his laptop into the pool because she was pissed off. We had to get a police report because it was case of vandalizing company property. That was a new one to me."
After 20 years, the company went public and outsourced everyone in support to India. While they offered Dean a job, it wasn't something he wanted.
"I stuck it out for a year and a half and trained them. .. but it was awful. I knew I had to leave."
Natural People Skills
Working at Synergis, Dean considers his most important contribution as his dedication to 100% customer satisfaction.
"When it comes to this kind of work, I just keep digging, digging, digging until I find a solution. I love to figure out problems and provide a resolution."
"Dean was a dog with a bone," laughs Laura Gordon, Document Control Administrator, Indorama Ventures Xylenes & PTA LLC. "This was the first time he had seen this issue and he just stuck with us until it was resolved – EXCELLENT."
Dean understands that troubleshooting requires taking different angles. " I have to figure out which direction to go and how fast I can get to a resolution."
It's exactly this tact that helps longtime customer Karyn Dawes, Configuration Manager at Fluid Components International (FCI).
"FCI tends to submit those 'one off' types of issues, so a canned fix doesn't always do the trick," explains Karyn. "Dean goes out of his way to make sure he understands our issue before attacking it with his 'can do' attitude and isn't afraid to get others involved if necessary."
But how, I ask, is he able to stay steady and calm when he's on a call with an agitated customer.
"You know, I give them assurance that I'm going to work it until we figure it out. I guess I have the ability to make people feel comfortable. I have a way with people so that they listen to me. They follow my direction. Usually, we're able to figure things out."
His sense of humor helps.
" I use humor like an icebreaker to open people up and make them feel comfortable working with me," explains Dean. "There was one customer, who was asking all these questions and raising her voice. I got her to laugh, and we restarted the conversation minus the tension."
Empathy counts, too.
"That's part of this job," Dean adds. "You've got to be a really good listener. When I hear a certain 'key word' in a conversation, I follow my gut and look for an answer that no one's thought of before. That I get super focused and serious on tracking down an answer."
"I've always been good with people. I just have an ability to strike up a conversation with anybody, really. Even strangers on the street."
I ask Dean if I can join a couple of Helpdesk Zoom to watch him in action. It's my first Helpdesk call and for me, a real geek-fest.
The first call has three people from the customer site and three techs from Synergis Helpdesk.
The customer has questions about Adept Admin settings and how to make Active Directory synch. Dean quietly takes command and guides the conversation to log files on the Adept server.
Suddenly we're scanning rows of a 45MB text file, and Dean's asking questions as fast as the lines scroll off the screen. He's definitely in a zone: Serious, focused, and confident. He suggests some picks and clicks. . .I can feel a group dopamine rush. Case closed. Bada Bing.
The second call is more complex and requires more in depth trouble shooting with the customer and Synergis application consultant.
I'm jotting down notes, trying to pick the phrases that capture Dean's way of problem solving.
"Let's try this.. now go back to there. . hmm. Now let's close out of this and make sure there's a connecting." (The cursor is jumping all over the screen.)
"I'm curious about that..." "Wait. I see something." "I'm just thinking . ..:
"I have an idea if this doesn't work. Let me screen shot this. . ."
This call ends without a clear resolution. Dean says he needs to speak to someone in the AppDev group. Meanwhile, the client uploads his 13 GB database to our FTP site for deeper review. Dean apologizes and promises to follow up first thing Monday.
This work is clearly Dean's calling.
Crazy about football; fervent about fishing
I learn that Dean's an Eagles fan. He talks Eagles plays and games, wears Eagles' merch, and shows up for Eagle games at "The Linc". He explains his love for football as a "family thing" more than anything else.
"When I was growing up my grandfather always had 10 tickets to Eagles games," Dean states. "I have six cousins that are all around my age. So, each Sunday we'd go over to my grandparents' house, and my grandpa picked four cousins to go with my uncles to the games.
"That for me was just the greatest thing ever. And when nobody wanted to go because it was freezing cold, I'd offer to go."
Besides the Eagles, he's got a long-time love for deep-sea fishing. Only 30 minutes from Atlantic City shore, it's easy for Dean find a seat on a fishing boat for an hour, an afternoon, or a day. He loves gliding on the bay in a pontoon boat, where it's calm, waiting for the boat to slip over a school of fish.
He tells me about one scary run in with a bull shark, which he describes as "the worst day of my life." He and a friend were fishing off a jetty when the shark came out of the ocean and chomped on his braided fishing line (which doesn't break easily). They had to fight off the shark with a crowbar until the hook finally dislodged. No wonder Dean prefers the calm bay waters!
Family First: A House Filled with Women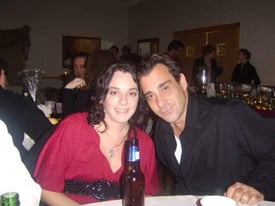 When it comes to a guiding principle, says Dean, it's family first.
The Scavetta family resides in Glassboro, not far from the Jersey shore. He's been married to his wife Kim for 18 years and has two beautiful daughters—Gabriela, who is 20 and Sophia who will be 16 next month.
"Two girls. Oh Gosh," I think to myself, remembering my dad in our house filled with women.
"Yes, they love the shop," Dean pronounces. "And at a very young age, they both had shoe collections. And it hasn't stopped."
Kidding aside, Dean's proud of his daughters. In fact, he's planning Sophia's sweet sixteen party this month and coaching Gabriella as she navigates her teaching career.
Sophia is in in technical school to become a pastry chef. She's into baking, cooking, cupcake competitions and Dean jokes, "getting me fat". She makes all kinds of desserts and sweets and loves to decorate cakes.
Gabriella is working in a school district with special needs kids. She's worked as a camp counselor for adults with special needs in Arizona, New York, and New Jersey. It's how she's made a set of international friends from the England, Hungary, and Brazil. Now she's planning a trip with a friend to England later in the year.
"When you live in a house filled with women, they control you." Dean quips. "They run the house. It's best not to argue with them. Just tell them that they're always right."
"Really?" I ask?
"Nah," he jests.
"The most important lesson I've learned from my daughters is patience."
Besides his wife and daughters, he enjoys spending time with his family. His mother's father is from Naples and his father is second generation from Sicily. His wife, mother, aunts, and grandmother are all great cooks.
"I used to love watching my grandmother every Sunday have my aunts over and they would make fresh macaroni ,sausage, meatballs and braciole."
He dreams of visiting Italy one day.
For now, he vacations stateside.
This summer, he took a weeklong vacation with his wife, two daughters and their friends at Tybee Island, off the coast of Savannah, GA. I'd never heard of the beach destination, but it sounds divine.
"It's something you got to put on your bucket list," insists Dean. "It's 15 minutes out of Savannah. You follow this little road and drive over a small bridge that takes you to the island surrounded by white sand. I splurged a bit on a beachfront property rental. It was worth it."
Celebrate Your Mistakes
In a job where troubleshooting customer mistakes and problems are the norm, Dean understands how to leverage his good humor, experience, and people skills to maintain an even keel under any interaction with a customer.
"Dean has been our Adept savant for many years," says Mark Hastings, vice president of product engineering at Visa Lighting. "He is helpful and fast with his assistance to all our questions and issues!"
It's no wonder Dean's favorite Synergis Family value is Celebrate Your Mistakes.
"It's easy to make mistakes," grins Dean. "But you learn from your mistakes."
Fast, Accurate and Kind
After scanning the Helpdesk weekly survey response report, I see a consistent theme in customer comments about Dean.
"Dean's fast."
"He did a great job providing the correct fix very quickly."
"Within 5 minutes I received a call from Dean Scavetta."
"Very helpful, very fast, very kind."
Even more important than delivering fast and accurate help, Dean has helped create a high bar of service that customers come to expect from Synergis.
Darin Green, Director of Helpdesk and Dean's supervisor says, "Over the past four years, Dean's support queue has never been more than 10 cases (or 3-5 on average). The result of this dedication is 100% positive feedback from customers and the upmost respect from his peers! It gives me great pride to share with everyone how great Dean is as a team member. His diligence and detailed approach toward problem-solving has set a benchmark for the rest of us at Synergis. Thank you, Dean!"
It's a bar we all aspire to reach at Synergis and we're grateful that Dean's lifting it high every day.
If you're as much a fan of Dean as we are, leave a comment below and share your experience.