Automate Workflow and Streamline transmittals
When your work flows, your business grows.
Empower your company for growth by putting your document routing and approval processes on rails with a digital, automated workflow.
Manual methods of document review and approval—like emails, phone calls, printing copies for signature, walking around the facility with deadline reminders—don't scale, are error-prone, and will drain time and resources.
Adept makes it easy to create and assign simple or complex workflows, so all your documents follow a correct path for review and approval. Streamline your engineering change process, or any workflow you can envision.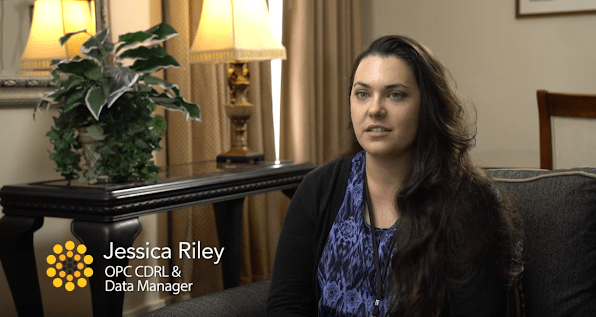 I think one of the most valuable things that we've been able to do is integrate Adept's workflows. We've been able to automate review processes for engineering development, change forms, engineering change requests, and more.
Jessica Riley
Compliance Officer
Eastern Shipbuilding
Get workflow insights and eliminate bottlenecks.
Status
Never wonder where a document is on its journey through an approval process. Check a status instantly for steps completed, who's next, and what's remaining.
Notifications
Adept notifies those who need to review or approve. Key stakeholders or consumers of the document can be notified upon final approval
Time-based alerts
Notifications can be sent to key stakeholders when a workflow or particular step is running behind.
Traceability
The Adept audit trail maintains a complete record of every step of your workflow. All document approvals are automatically tracked and maintained.
Analyze
Review the efficiency of your processes so you're consistently improving.
We've got hundreds and hundreds of workflows that we're managing with Adept, and one of the things we love is the email notifications and alerts. Someone may know they have work to do, but do they know if it's late? We get those notifications, and it keeps projects moving.
Chris Wood
Adept SME
Dow Chemical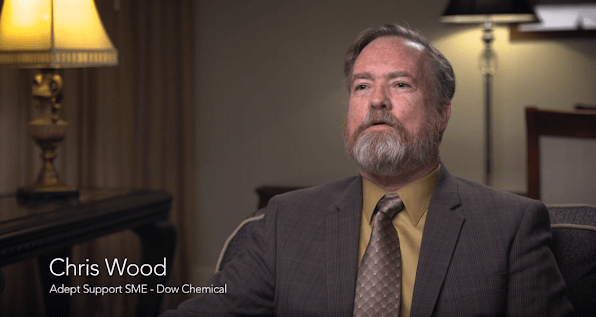 Configure Workflows Easily
Develop workflows in minutes with no code.
Adept's workflow is flexible, scalable, and easily configurable out-of-the-box by a workflow administrator without any code.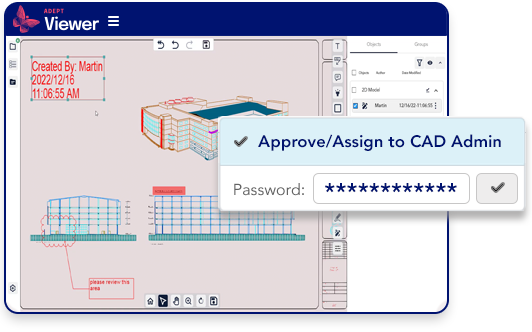 Approval Validation
Password-authentication for approvals when regulations require it.
The Approval Signature Validation add-on requires password authentication from each approver, and ensures each document has a clear record of approval signature and date at every workflow step. Approval signatures are tracked on the document's Data Card and can be automatically pushed to the document itself.
Worksharing and Collaboration Across Global Sites
Leverage resources at other sites and keep everyone aligned.
Easily distribute your project workload to teams in other geographies, while giving everyone visibility and access to the information they need. Replicate document vaults so everyone works locally, while Adept keeps everything in sync to ensure version accuracy, and maintain a complete audit trail.
Learn More about collaboration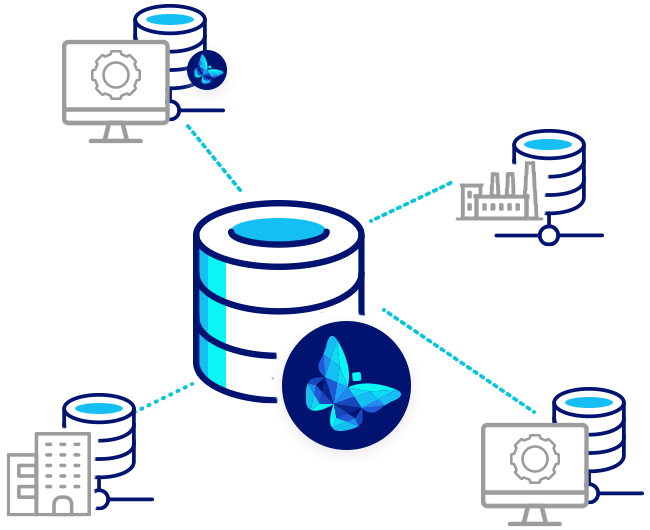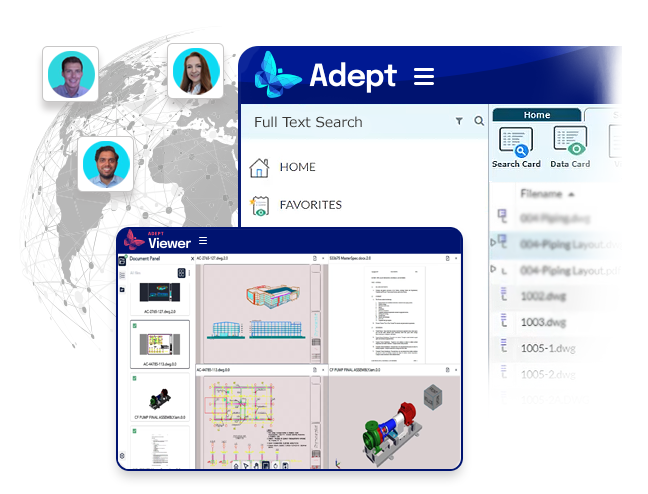 Design Reviews and Feedback
Simplify engineering design feedback.
Give non-CAD users the visual access they need to 2D and 3D designs.
Centrally collaborate on designs to foster innovation
Streamline design reviews with multi-user digital markup and compare
Empower field service with fast digital access
Interact with designs including zoom, layer/part control, measure, explode, cut sections
Learn More CAD Integrations
Create and manage accurate
transmittal packages with ease.
Simplify the process of finding files, validating version accuracy, tracking down reference files, creating cover sheets, packaging, sending, and maintaining an auditable record. Adept helps you create transmittals in 1/10th of the time—freeing up your resources for more valuable work.
Create your transmittal.
Transmittal forms are customizable and flexible to your environment and support the use of your own customized cover sheet. Add or modify clients and contacts to receive the transmittal from within Adept.
Select your documents.
Search and select the documents to send with the transmittal from inside Adept's controlled environment. Include or exclude related files with a simple check box. PDF or zip your transmittal and send.
Manage your transmittal.
Adept maintains a relationship between your transmittal document and all version-specific documents sent, easily viewable in a relationship tree view. The audit trail shows all activities related to your transmittal documents.
Creating a transmittal with 100 drawings used to take us 45 minutes to build it, check everything, get it into a PDF, connect it all together, and enter all the emails for distribution. I can do the same thing in Adept in four minutes, maybe five.
Kenneth Locey
IT Engineering Software Specialist
Matrix Service Company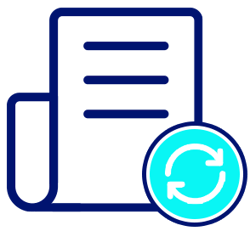 Ready to streamline document workflow and collaboration with Adept software?
Orchestrate data flows and business processes that span across your applications.
Adept Integrator makes it easy to connect your applications and eliminate information silos.
Integration your way.
Whether you need a point-to-point integration solution or an enterprise integration platform, Adept offers dynamic, limitless connectivity options.
Streamline business processes across multiple applications.
Put your IT architecture to work by automating business processes that rely on actions or approvals in multiple applications.
Eliminate redundant work.
Keep your applications in sync so that everyone involved with the project has access to the latest information, regardless of the application they use.