Adept Core Document Management Capabilities
The tools you need to empower your workforce.
Adept is the evolution of 30 years of experience, delivering all the document management capabilities you need from an easy-to-use interface. Explore the foundational features that will empower your workforce and help you accelerate productivity.
Centralize document access
Find documents fast
Ensure version control
Leverage metadata
Automate file naming
Create file relationships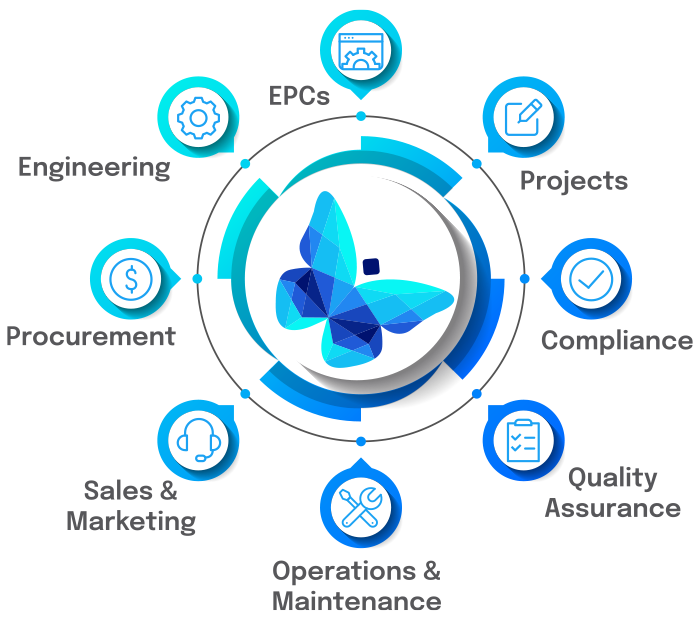 Centralize Document Access
Work together as one, from anywhere.
Don't let document management chaos hold you back. Adept brings your people, documents, data, and processes into alignment and under control, so you can operate with greater efficiency and lower risk.
Find Documents Fast
Access the right document in seconds, from anywhere.
Users everywhere have instant access to the right document, regardless of its location on your global network. Search based on whatever you know about the document, find it fast, and transform the productivity of your people.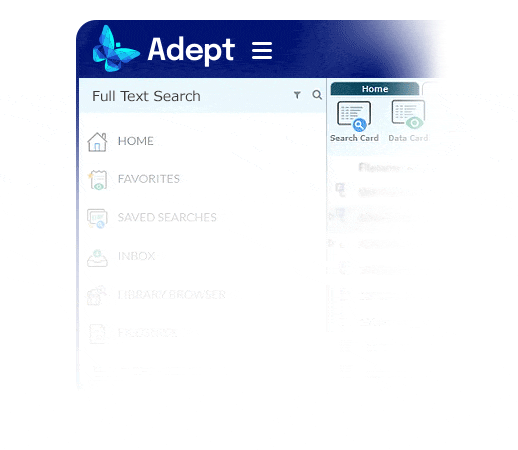 Adept's Powerful Search Tools
Boolean and wildcard characters
FileGuide data-driven navigation
Append or Refine a search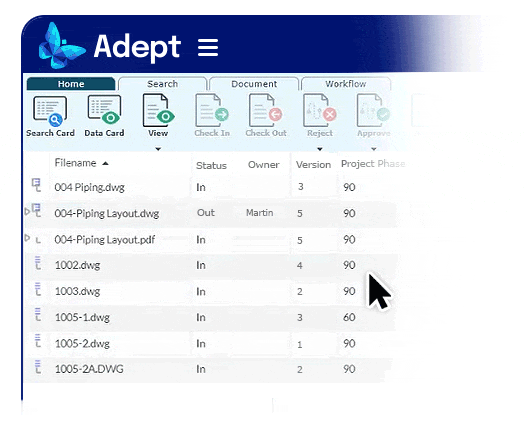 Ensure Version Control
Version control mistakes are expensive. Don't leave it to chance.
When workers in a plant, on the shop floor, or in the field rely on the wrong document version, personnel safety, asset reliability, and profit margins are at risk. Let Adept automatically make sure versions are properly managed, so your people can act with confidence.
Basic Version Control
Version Control for Plants/Facilities
Major and Minor Revisions
Revision control
Version control for CAD reference files
Leverage Metadata
Deliver centralized access to relevant data about each document.
With Adept, data about each document is centrally managed and accessible to those with permission, helping you improve productivity and gain insights that drive decisions.
Flexible data views
Bi-directional Attribute/Property Links
Related Fields
Data Insights
Automate File Naming
Create easy to use, error-free naming standards.
Adept makes it easy to create meaningful file naming conventions for any department with powerful and flexible configuration options. Create naming conventions by linking any combination of the following in any order:
Auto-generated number sequence
Fixed width placeholders for user-entered text
Pre-defined data from drop down lists
Delimiters
Restricted field data
User-entered free text
Create File Relationships
Connect documents regardless of type so everyone sees the bigger picture.
Easily link a change order or work order to a drawing, or an email communication to a specification or purchase order. Whatever your use-case, Adept makes it easy to create hierarchical relationships between documents of any type and to see them in a "parent-child" tree view.
Adept also manages reference file relationships for CAD drawings and 3D models, including AutoCAD, MicroStation, SolidWorks and Inventor.
Our customers tell us Adept is easy to use and easy to love. Ready to see for yourself?