Adept Document Management Platform
Unify with a single, scalable platform.
Adept makes it easy to manage and automate your most important digital content and processes. And it all happens on a single platform that saves time, lowers costs, and reduces risk. Adept supports departmental or enterprise implementations for organizations of any size, across dozens of industries, with flexible deployment options that manage business and CAD data equally well. Empower your workforce with fast, easy access to the information they need—from anywhere.
Smart document vaulting.
Adept secures your documents and the intellectual property they contain without sacrificing the intelligence of your existing folder structure and filenames. Unlike other solutions that scramble this information, rendering your files useless outside their proprietary system, Adept leaves them intact. Our vaulting system preserves the intelligence you've built over years. And if you ever decide to transition to another document management system in the future, you won't be stuck in a proprietary system.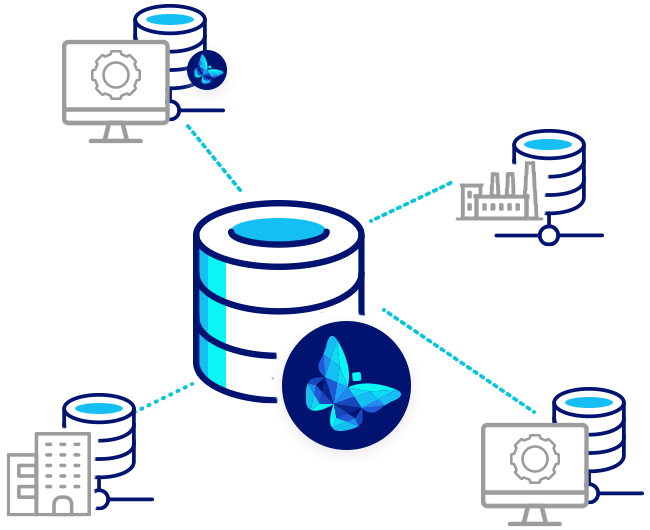 Vault replication.
Adept vault replication improves work-sharing and collaboration across geographically distributed locations—even in low-bandwidth environments. Dispersed teams have local access to the same documents for improved performance. Adept keeps everything synchronized to ensure accurate version control, workflow automation, and an audit trail. To limit traffic on your network, Adept replicates only the changes between files—not the entire file—making replication more efficient.

With Adept, users everywhere can work from a single source of truth, but with local document access.
On-premise, cloud and hybrid deployment options.
Deploy Adept in the way that best aligns with your IT strategy and without compromise on features or user experience. The same Adept platform is easily deployed as an on-premise solution, cloud-hosted solution, or a hybrid model. An example of a hybrid deployment is hosting the Adept server and database in the cloud, with remote documents vaults at your key sites.

Scalability from workgroup to enterprise.
The Adept platform is proven in a wide range of environments, from Fortune 100 global enterprises managing millions of documents across dozens of global sites with thousands of users, to small and midsize organizations managing their most important information across all of their teams. Whatever your goals, the Adept platform and a right-sized implementation plan will help you realize value efficiently.
Adept gives us SolidWorks-capable product data management and a single repository for all our documents across Germany, India, Ireland, and the United States. It's helped us run the business more efficiently, shortened our design cycle, enabled faster response to customers, and ultimately improved our sales.
Brian Walsh
Global IT Manager
SchuF Valve Technology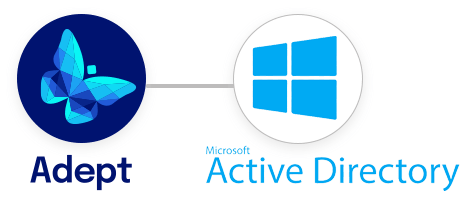 Essential user management and security integrations.
Adept is integrated with Active Directory, simplifying user administration. Support for Single-Sign-On enhances security and improves the user experience. With support for Secure Sockets Layer, all data in transit is encrypted.
Benefits of SSO:
Third party sites can't store passwords
Reduces the number of login/password combinations
Reduces time entering and resetting passwords
Reduces IT support calls about passwords and resets
Seamless identity provider interoperability
Increased enterprise and identity security
Simplified experience across web, desktop, mobile, and CAD.
Adept meets your users where they are. With similar user interfaces from your browser, on a desktop, from your CAD system, or on an iPad, the power of Adept is available to everyone in your user community.

Adept Explorer, Reviewer and Creator are three different tiers of the same web client user interface.

Adept Desktop offers a similar interface with more power for administrators, document control specialists and creators of document transmittals. Desktop also includes access to the Task Pane integrations inside AutoCAD, Inventor and SOLIDWORKS.

Mobile users on an iPad can access Adept's powerful web clients through a browser.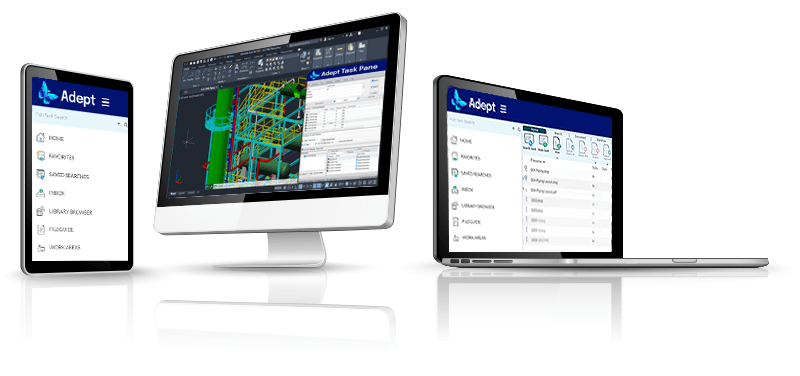 Get started with a scalable document management platform that's easy to implement, use, and maintain.