Adept Universal View and Markup
Stunning visualization for everyone.
Adept's integrated visualization platform makes it easy for anyone to view, print, and securely collaborate on virtually any document type—from 2D and 3D engineering files to office documents.
Empowers collaboration & innovation
Native viewing without a CAD license
Interact with your designs
2D Compare
2D and 3D Markup
Convert to PDF or Print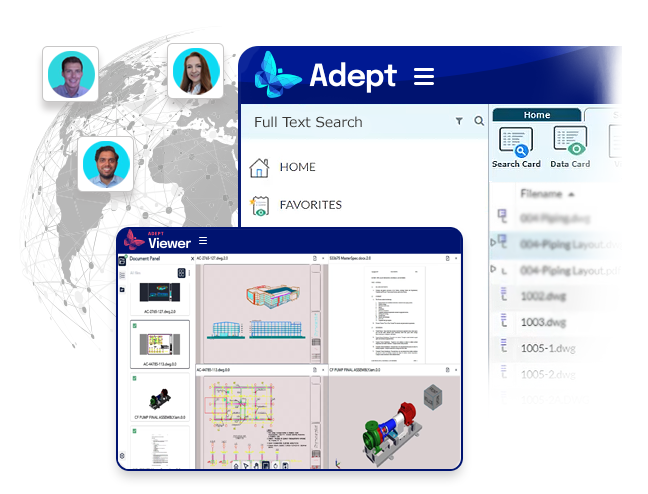 Empower Visual Collaboration
Harmonize access to visual information that empowers collaboration and innovation.
With interactive viewing, digital markup, and real-time collaboration, people in maintenance, design, engineering, project management, production, and across the enterprise have the tools they need to respond efficiently, communicate feedback, and create better products.
Native Document Viewing Without a CAD License
Simplified visual access without expensive headaches.
With Adept, there's no need for expensive CAD licenses, conversion to PDF, or managing separate viewers for each file type. Users anywhere can view and markup native documents from a secure platform that keeps everyone aligned.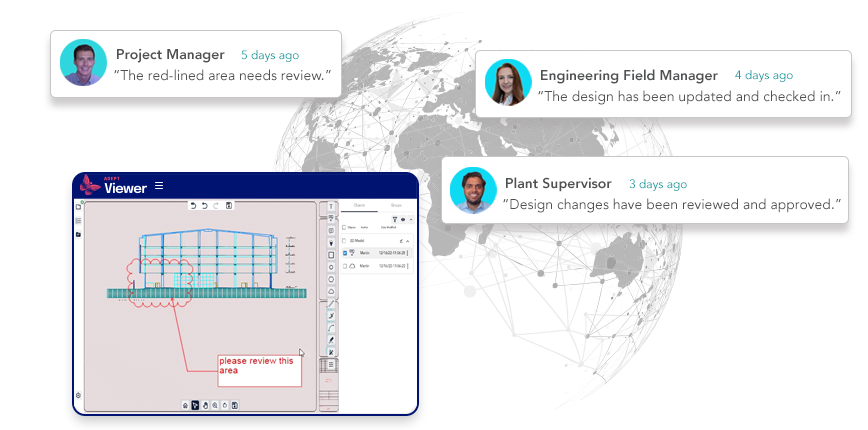 Interactive Designs
Enjoy complete control of your visualization experience.
Get the visual insight you need to work effectively and efficiently.
Zoom, pan, flip, rotate, bird's eye view
Select layers, blocks, XREFs, references, and named views
Measure distances
Turn 3D parts on/off
Cut sections in 3D models
Explode 3D models
Check for interferences
View mass properties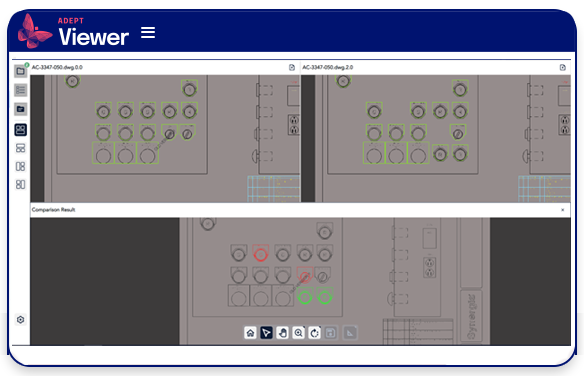 2D Compare
Compare versions and instantly see what's changed.
Compare two versions of a 2D CAD file while Adept highlights the differences for you, including what's been added, moved, or deleted—making it simple to review designs and approvals.
The comparison tool is extremely valuable when determining what has changed between document versions, or if needing to determine if an older legacy document is a duplicate or a truly unique version.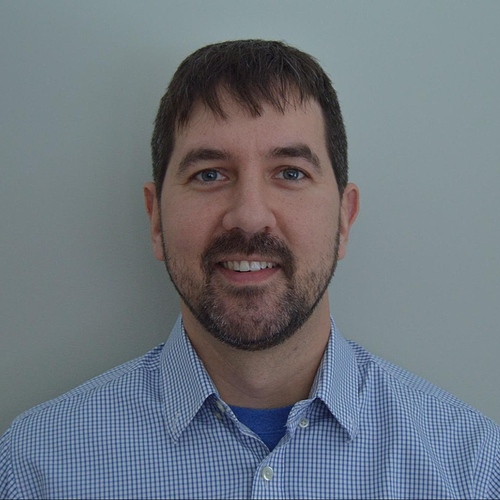 Bernie Voges
Relay Engineer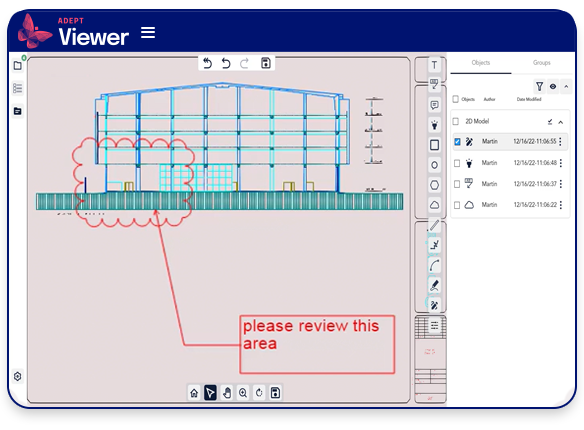 2D and 3D Markup
Digitally communicate feedback and accelerate design reviews.
Built-in markup tools make it easy to collaborate on digital designs. Communicate feedback, change requests, comments, and instructions in an effective and timely manner. Adept permissions give you control over who can markup.
Markup with Cloud, Circle, Arc, Box, Freestyle, Highlight, Leader, Text, Line, Polyline, Sticky Note, Measurement, and more
Markups are saved independently, preserving original file integrity
Multi-user markup on different layers with different colors
Print markups and watermarks with the document for greater control
Sticky Notes let you import and export content with text attributes, paragraph formatting, and clip-board functions
A visual glyph indicates to other users that a file's been redlined
PDF Conversion and 2D Printing
Quickly convert to PDF and print.
Adept permissions give you control over who can convert files to PDF or print from within the Viewer.
2D Printing Capabilities:
Output to any supported printer or plotter
Print any area or the extents of a drawing, or select a scale
Print preview, print page ranges
Print a header, footer, redlines, and watermarks
Batch print
Force to black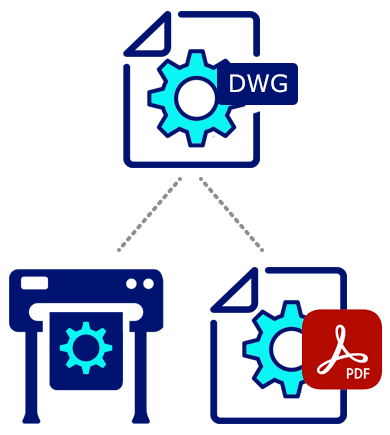 Get started on the path to greater
visualization

, collaboration, and control with Adept software.