I first met Randy Nettles on a phone call and was instantly captivated by his smooth, calm voice. I could even imagine him as a singer. A balladeer or lead singer. When we finally met in person, I asked him about his vocal prowess. "I'm definitely not a singer," he laughed gently.
As it turns out, Randy's calm voice and empathetic presence are elemental to the Synergis Product Management group. "Randy brings a calmness of spirit that allows him to think globally and act locally with equal dexterity. This calmness presented itself in recent business tech roadmap conversations and in diving very deep when triaging specific urgent defects," says Matthew Waychoff, a colleague.
In his two years at Synergis as Platform Product Owner, Randy's compassion, clarity, and techno-stenographic skills has shaped the direction of the product. Says James Tome, a colleague in product management, "Randy's empathy--whether we are working out product issues between teams at Synergis or getting to the bottom of how to help a customer--shines in how he listens to what others are saying and puts himself in their place to get their perspective."
Randy's keen sense of internal balance comes naturally. "My love of people contributes to strong team building and genuine empathy for our customers' positions," says Randy. "Add to that a very technical background in software systems, I am able to effectively communicate at all levels of the organization."

"Randy is a renaissance man and would excel in multiple roles at Synergis Software," adds Todd Cummings, vice president of R&D. "He is an invaluable member of our product management team because, besides being a gifted technologist and a strategic thinker, he is 'other-person' focused; he genuinely cares about others' experience. Not only is he a great listener, but he's also a talented presenter. Conversations, problem-solving, and brainstorming with Randy are never about him; it's always about finding the best possible outcome for customers, teammates, and the company."
There are other graces that endow Randy with a rare personal blend of intelligence and introspection. First, he's got a strong personal ethos grounded in principles like "be free with your love and grace, be stingy with your criticism. Do all in a spirit of win-win." Second, Randy's got a deep seeded belief that "you're the main character in your story but you're a supporting character in other's story. Be a strong character in both."
A life of Cajun and code
Randy's life story is filled with the color of south Louisiana--Cajun country. He grew up with crawfish boils, Jambalaya, Gumbo, and crawfish Etouffee. "It's a culture of family and community. My parents decided to move to Texas but couldn't decide between Houston and Dallas. On interstate I-10, as they approached Houston, they literally flipped a coin--and decided to move to Houston."
Randy and his wife Cindy, of 34 years, were both 19 years old when they decided to get married. While Randy worked as a manager at a local McDonald's throughout his high school years, he wanted a job with a longer career trajectory before he settled down with Cindy.
So, he took a position at Bechtel Engineering, running their blueprint reprographic machines.
"I really enjoyed seeing the engineering drawings, smelling the ammonia, being part of the process at Bechtel," recalls Randy. "I gained responsibilities in the larger reprographics print shop, delivering boxes of paper across the company, building a network of people along the way. The reprographics department had one computer with Lotus 123 installed. I learned to use Lotus 123 to track deliveries and it didn't take long before I was 'the computer guy'."
Randy convinced friends in the CAD department to let him use their CAD computers after hours to learn AutoCAD. For months he'd stay late at work, learning AutoCAD. He got so good with AutoCAD; he started teaching his peers how to use AutoCAD's 3D capabilities to create 3D terrain for their piping models. After a few months, and with the full support of his supervisor, he transferred from the reprographics department to the CAD department, picking up marks for P&IDs.
"Bechtel was a terrific time of learning, of growth and relationship building," says Randy. "I enjoyed drawing a lot and problem-solving even more. When I saw a problem with the plotting work process, I decided to automate the manual work using DOS batch files. The solution became so popular, it was used by the majority of the CAD department."
Randy soon transferred to the CAD support department and became the primary AutoCAD support technician. In that role he created AutoCAD LISP routines to automate much of the P&ID work process, electrical drawing processes, and ultimately create a toolkit they called "BEAMS". It became the standard CAD toolset for the Engineering department.
After three years, he left Bechtel and took a position at FMC Technologies, where he designed 3D models for sub-sea equipment using AutoCAD. He worked directly with the engineers to model their designs. Once complete, the models he created were added to a huge model for the off-shore Hoover/Dianna platform, built by Shell and operated by Exxon Mobile. "It was rewarding to see my contribution to the whole project," reminisces Randy. "I worked in a manufacturing shop where I learned all about tolerances and making mistakes. The drawings I created were handed directly to the manufacturing floor. We could instantly see any physical design mistakes. Patience and precision were everyday lessons."
After FMC, Randy spent some time at a gas-blending facility, walking the plant and creating 2D drawings of the existing structures, docks, blending tanks, and more. He'd take physical measurements and recreate them as drawings. "It was absolutely gratifying."
The next career leap to Rohm and Haas Chemicals, is where Randy served as an AutoCAD support and software programmer. He leveraged his experience writing tools for AutoCAD to write tools in C, C++, Delphi (Object Pascal) for AutoCAD and Windows applications, which were then rolled out to company at large. Perhaps a foretelling, Randy created a home-grown document management system that is still in use at Rohm and Haas today even after 30 years!
Ultimately, Rohm and Haas was purchased, and part of Dow Chemical, and Randy was transferred to a department that eventually became the global Document and Data Management team. "I was part of the team that specified, qualified, and selected the global standard Document Management System (DMS)." After passing the gauntlet of Dow's rigorous decision criteria, Synergis Adept was selected.
Finding a home at Synergis
When Randy was hired at Synergis, he was intimately familiar with Adept and knew many of the people in sales, marketing, and development. He felt at home and "couldn't have been happier."
Today, in the Product Management Team, his daily activities involve participating in meetings with the Development and QA teams and resolving problems in the product and prioritizing fixes and new features.
"Understanding our customers and market segments is a key part of my role and I spend time researching and gathering insights to inform the product vision and delivery roadmap," explains Randy. "I work to design new features that meet the market needs; and build relationships with my teams to understand their pain points and to help remove roadblocks. Effective communication and coordination are critical to the success of the product and are an integral part of my daily responsibilities."
Above all, he loves the people-focused culture at Synergis. "It is a nurturing and fair environment where everyone is respected and has a voice that is heard," observes Randy. "The employees all work together towards the best outcomes for both customers and teams. The atmosphere is empowering and makes for a positive and enjoyable work experience."
Coming to Synergis as a former customer, Randy has a unique perspective on why organizations choose Adept and the people at Synergis as partners.
"Customers choose us for our high-quality products and exceptional customer experience," states Randy. "Our products are easy-to-install and use and allow customers to be up and running quickly; while our customer-focused staff ensure they feel heard and supported. Customers appreciate feeling like they are a part of our solutions."
Sail on, sail on sailor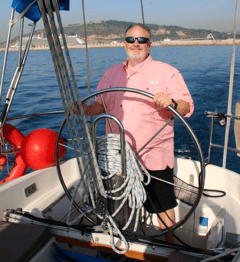 Randy works remotely from Houston, where he grew up and then raised his own family in a small coastal town just south of the city. Randy's children--Haley, Jordan and Christian, plus grandson Trinity have embraced "the gumbo that is Houston," with its myriad of cultures, cuisine, and traditions. "Someone said recently they admired the father I am. I'm super proud of that," says Randy.
Living near the coast, Randy has sailed the waters around the Galveston Bay. As a pre-teen his family owned a 14' Dolphin sailboat. As an adult, his family had both a 22' Catalina and a 37' Chung Wha Ketch.
"We've enjoyed many a midnight sail on the bay under a full moon and with great company." Smiles Randy. "We were fortunate enough to sail the Mediterranean, off the coast of Barcelona, Spain. It's where I learned that sailing and sailors are the same wherever you go. There is something absolutely relaxing when you raise the sails, turn off the motor and hear nothing but the wind and water and birds. It's a happy place indeed."
Besides is love of sailing, camping, and cooking, Randy is a committed lifetime learner. "Lifetime learning is a mindset," explains Randy. "You're never finished growing and never finished learning. I've taken a myriad of continuing education classes on marketing, statistics, artificial intelligence and machine learning, software development technologies and languages, embedded systems. And I'm currently studying Chinese Mandarin!" (我喜欢学习新事物)
Of all the 13 "Synergis Family Values" Randy's favorite is "Have Fun". He states, "I believe it's important to enjoy our work even in high-pressure environments and to have productive and enjoyable days."
Brilliant and big hearted, Randy has made longtime friendships with everyone he knows at Synergis. Says his fellow product owner, Chris Fabri, "Randy's superpower is his beautiful mind. He has a gift for taking in a meeting conversation while comprehending, cross-referencing, contributing, and summarizing the meeting topics all at once. He accomplishes all of this with the kindest disposition and curiosity."