In Part 1 of our three-part series on Engineering Document Management (EDM) implementations, we addressed the three top concerns that hold people back from implementing EDM: Time and bandwidth constraints, budgetary concerns, and apprehension about change management and user adoption.
In Part 2, we turn our focus to the details of our implementation offerings—from basic to personalized. It's our goal to:
Present a clear picture of each phase of our implementation lifecycle, along with the time-tested methods, best practices, and support we provide

Share what we've learned after 30+ years' experience and more than 1,000 implementations across the globe—from Fortune 100 companies like Amazon, FedEx, Dow Chemical, Merck, Caterpillar, and Nucor to hundreds of SMBs
As you explore our basic and personalized implementation plans, you'll gain insight into our best practices, the true value of Adept, and the methods we use to avoid pitfalls that could upend or disrupt your plan of action. You can be certain whatever plan you select; we make it our priority to consider:
Your highest priority goals with Adept

Size and complexity of your organization

Volume of legacy documents

The Adept products you purchased

Your application integration requirements

Your bandwidth to take on setup and training responsibilities

Budget
The Value of Adept and the EasyStart Implementation
The Adept EasyStart Program helps you quickly deploy a single, unified view of engineering and business content.
It empowers all your stakeholders to quickly find version-correct right documents any time of day, regardless of their location on your company network.
It helps you eliminate the proliferation of document duplicates that can cause expensive mistakes, and you'll no longer have to rely on a dizzying Windows folder structure, each one unique to a department or site, to find what you need.
It gives you granular control over document access and an extensive, searchable audit trail. Your documents and priceless IP will be more secure and protected from unwanted access.
It simplifies your collaboration, design reviews, and field markups.
It automates your manual document approval processes, eliminating bottlenecks.
The Adept EasyStart delivers all this value in two "tiers" to best accommodate your schedule, resources, and timeframe.
Figure 1 lists the details of EasyStart Tier 1 and Tier 2.

Tier 1 delivers a basic Adept system that is ready to go live in one week. It's best suited for organizations who have web users for basic check in/out/approve/create capabilities.
Tier 1 deliverables include:
A pre-configured system with database fields and data card

A single custom workflow

Import and vaulting of up to 15,000 documents.

Creation of user groups and assignment of permissions

Live, online training for up to 15 web users

Administrator training throughout the system configuration process.
Tier 2 includes everything in Tier 1 plus a second week of implementation support. Other Tier 2 deliverables include:
Creation of up to three customized workflows

Import and vaulting up to 25,000 drawings and documents

Training up to 15 Web or Desktop users.
Some of the optional add-ons for the Tier 2 EasyStart are:
Transmittal configuration and training

Related field configuration and training
While our two EasyStart options can kick start your document management efforts, they are not suitable for everyone. That's why we offer optional personalized implementations.
Personalized Implementation Plans Designed for Your Unique Goals, Requirements, and Business Processes
Following an initial discovery, your implementation plan follows a six-phase approach that helps you reach your goals as efficiently and effectively as possible.
Let's start by giving you an overview of each phase and then we'll dive into more details.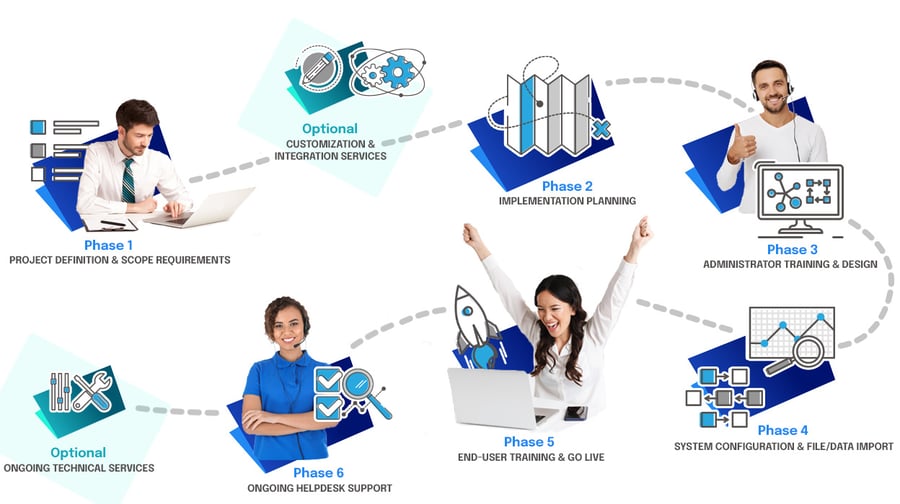 An Overview of the Synergis Implementation Lifecycle


Phase 1 - Project Definition and Scope Requirements: In this phase we define the "Why" of your implementation and the "How" of getting it completed.
Phase 2 - Implementation Planning: In this phase we define the scope of your project and introduce you to your success team: A project manager, an applications consultant, and an implementation technical support specialist. The technical support specialist works alongside you until the implementation is complete.
Phase 3 - Administrator Training and Design: In this phase, your Administrator(s) learn all of Adept's capabilities so they can co-develop the design of your system with our Application Consultants.
Phase 4 - System Configuration and Files/Data Import: At this milestone, we leverage all you know about your environment and what you've learned during Administrator training to create the ideal system configuration for importing your documents.
Phase 5 - End User Training and Go Live: At this point your implementation is complete and you are ready to use the system live in production. We train your end users and/or a "superuser" team that will then train your end users. Whether your implementation is in person or remote, our support team is available to answer all of your initial questions.
Phase 6 – Ongoing Helpdesk Support: Your implementation is complete, and we transition your support from our implementation team to our Helpdesk team. Moving ahead, Helpdesk will become your single point of support for all your questions and/or troubleshooting.
While there are six phases of a personalized implementation, it's important to remember that we're very efficient at working through each phase. This chart based on verified reviews on G2 shows how our implementation timeframe stacks up against others:

NOTE: The details of the Optional Customization and Integration Services and Optional Ongoing Services shown in the image above will be covered in detail in Part 3 of the EDM Implementation blog series. These services include:
Custom Data Migrations from an existing system into Adept

Custom Development for Adept

Application Integration to automate data flows and business processes between your enterprise applications

Simplify PDF workflow with automated or on-demand PDF publishing of CAD & Office files from Adept.

Remote Adept Administration

Adept Server Hosting

Ongoing Technical Consulting

Now that you have an overview of our implementation lifecycle, let's examine the details of each phase more carefully.
Phase One: Project Scope and Definition
Phase 1 begins with documenting your Project Scope and Definition, an iterative process that we've designed, refined, and tested over thousands of projects.
Our first conversations seek to understand the issues you're trying to solve in your unique environment and what processes you wish to automate and improve. We examine your pain points, current processes, the scope you want to address, and project priorities.
Here is a small sampling of the questions we explore together:
What are the primary goals of the implementation?

What are the most important problems you are trying to solve?

What departments or groups of people will benefit from the implementation?

Where are your users? Are they in a single office or across multiple locations?

What network architecture do you have in place?

What are your security requirements?

Do you have any industry regulations you need to comply with?

How are your drawings and documents organized now?

How do you manage those documents today - manually or with another system?

Do you have duplicate files (most have more than they expect)?

What CAD systems are you using, if any?

Do you require the ability to create and manage document relationships?

Do you require the ability to create, share and print PDFs?

What are your document collaboration and workflow requirements?

Do you want a solution in the cloud or on-premise?

How many documents are you importing? Thousands? Millions?

The information from these interactive discussions roll up into a Consulting Services Order (CSO) document that outlines:
The best implementation approach for your environment (EasyStart Tier 1, Tier 2, or Personalized).

The level of performance you can expect from Synergis and what we expect from your team, including:

When we'll need dedicated time from IT and when we need them on call

What we'll need from you to ensure the implementation moves forward, for example, CSO approval and PO, any forms you may have for transmittal or document templates, and your current file listing.

Milestones for the project

Next, a Synergis Application Consultant completes a site assessment, in which they gain further understanding of your:
Company topology, including departments and key employees that make up your user base

Current and desired workflows

Documents and any document templates

Your metadata and your physical files and file structure

Work processes and potential requirements for integration with other systems

Your employees' overall comfort level with organizational change
This information is compiled into a personalized Assessment Document to ensure a high level of understanding of your desired system needs.
We ask a lot of questions to unlock the true value of your organization and your people as it relates to the system we are implementing. In fact, it's our in-depth review of your people and your data that distinguishes our implementations from others.
We take the time to cultivate, analyze, and leverage all your organizational and tribal knowledge to mitigate business risk, uncover roadblocks and hazards, while ensuring maximum success in the shortest time possible
Phase 2: Implementation Planning
Planning is crucial for a successful implementation. We've even developed a set of six "Pre-Implementation Hints and Tips" to keep your project plan on track.
Participants should understand scope, schedule, and project risks.

The proposed schedule should be confirmed and acceptable to all participants.

Make sure that all the necessary resources are available prior to implementation start date.

Communicate often and clearly to all key participants. Include them in all relevant meetings and be sure to update them throughout the project.

Documentation and other internal requirements/approvals should be in place/signed before agreeing to a schedule.

Systems should meet/exceed technical requirements in advance of your start date.
Perhaps most critical to your success is tip #4: Consistently engaging and communicating with your key participants. It's likely they have insights you don't, so their input is critical to factor into decisions along the way, and ultimately to your success. And if everyone is "in the know," system adoption is easier because they were part of the process. Communication also helps to avoid delays and mitigate risks and disruptions.
During implementation planning we schedule three team meetings:
The Kick-Off Meeting introduces you to the team and clarifies the project details and required resources.
The Technical Prep Meeting is for your IT personnel and key participants to review the technical requirements based on your environment.
The Implementation Support Meeting introduces you to your key implementation technical support contact, who will provide ongoing, focused support throughout the project
In addition, we hold status meetings throughout the project to update stakeholders on progress, issues, and next steps.
All meetings are intended to help you:
build a strong rapport between Synergis and your team

set the overall tone and comfort level amongst project stakeholders

encourage everyone to ask questions and provide answers.
The Implementation Planning phase is when we "get to know you, get to understand your systems, and how you do business." It's our way of understanding your business and environment so we can better facilitate change.
We've consistently heard that the handholding and support we deliver "goes above and beyond" the industry standard. With every personalized implementation we provide a project coordinator, an applications consultant, and a technical support contact who works with you from start to completion of the project.
Phase 3: Administrator Training and Design
Administrator training is a requirement in every personalized implementation. A designated Adept administrator will become the single, key contact who has unlimited access to our Helpdesk team once the implementation is complete. Beyond learning all the features and configurations of the system, training increases ownership, accountability, and engagement and serves as fertile ground for new ideas for increasing productivity.
After training, your Administrators have a better understanding of what the system can do and what functionality will best benefit the processes of your company. They can better participate in the nitty gritty details of the actual design.
During the design phase, our Application Consultants co-develop the system with your various teams. Our goal is to provide a system that encompasses the best work processes for your organization and meets your immediate needs, while laying a foundation for the future.
These are the basic steps of the design phase:
Discuss what database fields views, and metadata will be included in the system

Review Library Structure, Users, Groups, and permissions needed

Design Transmittal processes, coversheets, and templates

Create workflows for document approval. Based on your processes you may have a simple one step workflow or a multi-step workflow that requires several approvals

Document the functional design

Review the design and gain the approvals from appropriate teams

The design document becomes a living "as-built" that stays with you and is maintained by you moving forward.
Phase 4: System Configuration and File/Data Import
Once the design document is complete and approved, the Synergis Application Consultant works with your Administrators to configure the system.
Here are the common tasks we perform during the Configuration and File/Data Import phase:
Install the Adept software in your chosen environment – either in a test or production environment.

Configure the system for SSL or SSO configurations.

Build the database structure, including custom database fields, FileGuide Views used for searching, and design data cards based on most used metadata.

Create groups and users, which may be linked to Active Directory and synchronized with your domain.

Import your files and create your Libraries.

Import your metadata from a spreadsheet created manually or delivered from another source.

Add permissions for your users and groups.

Create transmittal template and train admins to use transmittals.

Configure Related Fields, if desired.

Test the entire system end to end to ensure customer satisfaction with the imported data, design, and functionality.

Complete final modifications to the new system.

Update all documentation to reflect the modifications.
Any changes to cost, scope and schedule are documented and approved by both parties.
Phase 5: End User Training & Going Live
End user training is designed to get your everyday and occasional users excited about the new system. It also improves overall productivity and gives your people the practical skills to accomplish their work as fast--or faster—than their current experience.
Training may focus on the Desktop, Web, or CAD Integration interfaces and covers commonly used features such as searching for documents, visualization, and markup, checking files in and out for editing, document review and approvals, creating document relationships, and much more. Last, but not least, end-user training promotes overall user satisfaction with the new system.
Go Live is the time your users start to work in the new system. Your administrators have access to your implementation technical support contact to address any issues or questions.
Phase 6: Helpdesk Support
After Go Live, we transition your technical support from our implementation team to our Helpdesk team.
Our Helpdesk team has received global service awards from HDI (Helpdesk International) and from G2, the most trusted review site for enterprise-level software.
Our technicians are trained and tasked to listen, absorb, diagnose, and troubleshoot technical difficulties to understand and resolve your issue.

Helpdesk engages with the one person who knows the most about your system: Your Adept Administrator. By working with your Administrator, our support team 1) builds a strong technical relationship with your company and 2) ensures your data integrity and security of your organization. Plus, Adept Administrators have access to the history of all your cases, making it easier and faster for them to find solutions to your problems while maintaining all your security protocols.

The Helpdesk team has access to every technical resource at Synergis— from Development to Quality Assurance to Product Management. This access to decades of experience leads to efficient resolution of issues. Our technicians leverage state-of-the-art technologies for remote assistance (e.g., Zoom, Teams, TeamViewer, etc.) and utilize virtual environments that can be used to replicate issues with your organization's specific OS, applications, and system configuration.

The Helpdesk team is committed to responding to new cases in minutes—not hours or days. Their assistance helps avoid possible issues or system outages before they happen.
Your Helpdesk support agreement and four-hour Service Level Agreement (SLA) is part of your Annual Maintenance Contract. It gives your Adept Administrators unlimited access to Helpdesk. The SLA ensures that our Helpdesk responds to your case submission within four hours. However, based on our KPIs, Helpdesk response time is closer to 40-minutes.
The Helpdesk can be engaged via email, a self-service portal, or by phone. We typically respond by phone for a more personalized experience.
Final Thoughts
By taking a thoughtful and well-planned approach to your implementation, and through partnership with the company Frost and Sullivan named the "Customer Service Leader in the Global Engineering Information Management Market," you can be confident that your system will deliver maximum value to your organization as quickly and affordably as possible.
Stay tuned for Part 3 of our Implementation series, "Optional Implementation and Ongoing Services."
If you have any questions about our services, or you'd like to have a conversation with an expert, simply fill out this form.