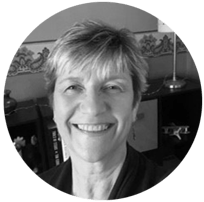 Sabine Thomas (pronounced Sa-bean-ah) is our featured employee this month for our Inaugural Employee Spotlight article. Sabine is an Account Development Representative in our Synergis Software group and she is usually one of the first voices you hear when learning about our Engineering Information Management solution, Synergis Adept. Sabine's responsibilities include speaking to prospective clients and determining if Adept may be of value. She works with our sales and marketing teams to uncover new opportunities and supports them in their prospecting and lead qualification efforts.
Given Sabine's career experience in sales, one might think she is very outgoing, but to everyone's surprise, she can be very shy. This is news to all of us, since she routinely knocks herself out of her comfort zone. She has a reassuring and pleasant demeanor and a very positive attitude with amazing perseverance to go along with it. Sabine never gives up and is not afraid to take risks. One of her guiding principles is to "be honest and always do the right thing, even when no one is looking." In fact, she quoted her mentor, the late Dr. Robert Capin, president of Wilkes University, who once said to her, "There is no right way to do the wrong thing," when they were having a discussion about how she lives her life.
Sabine resides in Wilkes Barre, PA and has a very strong sense of community and service. She often donates her time, working with local organizations for the prevention of suicides, Lung Cancer and Multiple Sclerosis. Additionally, Sabine supports local food and clothing drives at her church, as well as any food preparation for the local bazaar. She visits nursing homes or people who are homebound, offering rides, running errands, or keeping in touch by sending notes and cards.
Sabine has been with Synergis for almost 6 years and if you have the pleasure of speaking with her, you will undoubtedly recognize Sabine by her German accent. Sabine was born and raised in Germany where she attended grade school and graduated high school. She holds degrees in English and French with a specialty in technical writing and translation from Augsburg Language Institute, a branch of the University of Augsburg.
In her spare time, Sabine likes to draw, paint, take pictures, read, write, and play guitar. Sabine's ultimate idea of fun is "to find a quiet lake and go out on the water in my kayak. There is nothing like gliding along on the water to forget all your troubles."
When asked what she likes most about working at Synergis, Sabine said, "I love Synergis and its people. I worked here once before for a year and then left for a while, and I can truly say that I missed it. There is an atmosphere of belonging, sharing and support, which is hard to describe. It's that feeling that everyone has your back, no matter what. We live our Synergis Family Values every day, we truly do, and that is something that is unique, and that I am grateful for."
Well, I know I can speak for those of us at Synergis who have the honor and privilege of working with Sabine when I say that we're very grateful for her, too.