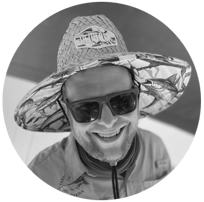 Nick Bogart, (no relation to Humphrey), is our featured employee in this month's spotlight! Nick joined Synergis as an application consultant in our Synergis Software group and has been with us for 7 years, making significant contributions to the service and support of our valued customers. In his role as an Application Consultant, or AC, Nick is one of our most requested technical resources, responsible for the implementation of our Engineering Document Management software, Synergis Adept. Prior to joining Synergis, Nick gained valuable experience with Adept at L-3 Photonics in Carlsbad, CA where he worked for 13 years in various roles such as Principal Engineering Technician, Government Property Administrator, and Logistics Analyst.
Before COVID, Nick was a road warrior and frequent flyer, racking up 1000's of airline miles traveling around the world visiting new and existing customers, spending time in different cities, and meeting thousands of friendly new faces. In these COVID times, a typical day for Nick is drastically different. Today, he spends about 4-8 hours per day in Zoom sessions in which he provides remote services related to Adept. Although he misses the travel, Nick's knowledge and experience continues to grow while he works on projects of all shapes and sizes. He's been called in to support small implementations of just a few users to enterprise implementations spanning thousands of users across several continents.
Nick is no stranger to travel or study abroad. Nick began high school in Vista, CA, but he and his family moved to Malaysia where he spent his sophomore and junior years at International School Kuala Lumpur (ISKL). After finishing his junior year, his family moved back to the US to Denver, CO where he graduated from Lakewood High School in 1997.
When asked what he likes most about working at Synergis, Nick said, "I like the flexibility I have in deciding the overall path of the implementation with the customer. The entire team has my back 100% and fully supports me every day. From the Project Management team to our Application Development and Data Migration team to the Upper Management team, I know that if I raised a flag, all teams would have my back to overcome a problem. I learned that very early in my career at Synergis."
Nick is a happily married to his wife of 5 years, Jessica, and together they have one cat, Mr. Kitty. Over the past year, Nick realized how important family is to him, "After not seeing them for a year (due to COVID) and being so close, I realized I was really struggling with that."
Nick is a caring and giving soul, making time to donate blood every 54-60 days to the American Red Cross. Nick's blood type is in high demand (O+) and they always seem to celebrate Nick's donation because of the increased demand. To date, he's donated over 10 gallons of blood or as much blood as is in 7 human bodies! (Anyone else feeling a little woozy…?)
When he's not donating blood, Nick is a DJ, playing music, making music and learning music, a favorite hobby since 2004. If he's not working or DJing, then he's probably cooking or out on his RadRunner Plus e-Bike. Since purchasing the bike in November, Nick has ridden over 1100 miles.
These days, Jessica and Nick are seriously considering the RV lifestyle and are investigating living in an RV full time (with Mr. Kitty, of course). From his frequent travel schedule, to his RadRunner e-Bike and his RV-living dreams, there's no doubt that Nick Bogart is taking the meaning of "road warrior" to a whole new level! And, we really hope he uses his new wheels to see all of us in our Quakertown HQ real soon!