March's spotlight is on Craig Schuler, Solutions Architect for Synergis Software. Craig's worked at Synergis for six and a half years as accomplice, tactician, and savvy demo master for the sales team. In his role he's responsible for:
Delivering in depth technical demos and webinars to potential and existing customers

Creating product videos for the web

Serving as sales and technical ambassador for Synergis Software partners around the globe
Part performer, part software samurai, and always a collaborator, Craig brings a sense of humor, unfathomable patience, and deep listening skills to every demonstration-- no matter how competitive or high-stress the stakes.
"I came from a large family of three brothers and three sisters with 19 years between the oldest and youngest. I was in the middle. I think growing up with all those different personalities really taught me how to work with people. That and my love for technology was a perfect set up for what I'm doing now."
Craig also has 20 years' experience in the document management industry as a Helpdesk support and implementation, a trainer, and CAD drafter and IT database/SQL specialist. Along the way, he picked up a Certificate in CAD Drafting Operations, an associate degree in Machine Design, and a BS in Mechanical Engineer Technology.
"Originally, I wanted to be an aircraft maintenance engineer. I loved everything about planes and aeronautics. I didn't envision myself in CAD. In the mid-1990's, with my experience as a Mechanical Engineering and CAD drafting, I was a natural fit for the exploding Autodesk reseller job market."
During a stint at a Midwest Autodesk reseller, Craig caught the document management bug. He trained, implemented, and supported customers in Autodesk Vault, and the then Cyco Meridian and AutoManager Workflow software. His rich document management resume opened doors at a global document management software company, where he worked as a Helpdesk technician for 5 years, until, he explains, "I got burned out."
"Working at the helpdesk was a great way to learn patience, listening, and brainstorming. I loved helping people figure out easy or hard problems. But it's a thankless job."
Synergis offered him the opportunity to work at the front lines, as the number one, go-to technical expert for the sales team. His demos and technical prowess are critical to making the best "first impression" with a new prospect and winning new business. Which is why it's no surprise that Craig's favorite Synergis family value is "to communicate with empathy and humility".
"In my role doing demos this value is the one I try to embrace – communicating clearly while I am listening and learning from people how they can use our solution or how we could improve Adept to better fit their needs."
When asked about Craig's superpowers, his sales teammates offer up accolades.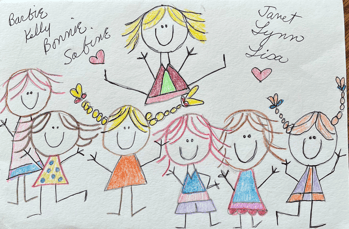 "…always asks the ideal next question to engage the group, to address a concern while encouraging people to express themselves..."
". . .will go above and beyond to exceed expectations in the calmest manner, possible! "
". . .is patient and always brings his 'get it done' team attitude to the demo."
". . .is upbeat no matter what hour of the day!"
". . . reads between the lines and translates what's important for our clients into a solution that works."
I often wondered how Craig keeps his cool and poise in a high-powered, all-female sales team. Then I met his family: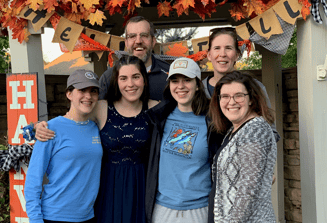 Jennifer is a clinical psychologist and wife of 28 years; four daughters, who range from college graduate to high schoolers: Lorraine 21, Eleanor 19, Rosellen 16, and Eileen 14. Then there's Frenchy, a 7-year-old female husky/lab mix whose cuteness should be illegal.
So, dear reader, here's my theory (take it or leave it) why Craig's so good at his job --He's had lifelong practice and training as a parent, husband (to a psychologist, no less!), school/career advisor, and only male in a household of seven.
Make no mistake. . . Craig loves what he does and enjoys his team's comradery but, at the end of the day, he's most proud of, "being a parent to my daughters and a good husband."
"I'm really a family guy at heart. Having young adult children entering into their 20s is really fun. I get to interact with them in fun ways."
At home he rollerblades (really fast) and runs daily inside and out. He's handy at building (most recently a patio, firepit, and family entertainment room) and loves football (Go Chicago Bears!). He also loves to bake cookies, his favorite food-- peanut butter, sugar, and Snickerdoodle. One Christmas, he baked 700 cookies for family and friends." As a kid, I had the nick name 'Cookie Monster'. There's nothing better than a good cookie and a glass of milk!
For vacations, he takes the family hiking and camping ("I grew up in a family that camped a lot, and I was a Boy Scout"). To give back, the Schuler family donates time (and process improvements) to assembling Baby Care Kits for the Lutheran World Relief (1200 kits in a season! A world record!)
For Craig, "being a half-full kind of person," seeing two sides to everything, and embracing humor and laughter are his guiding principles.
"I wish more people could understand other peoples' perspectives. There's not always a clear right or wrong."
After 976+ demos and webinars, Craig is still perfecting his craft.
"My current superpower is to do presentations and use good listening skills/work experience/tech background to provide demos to customers so they can see value in the software and services that Synergis provides. I've always had an ability to relate to people and develop ways to explain technical stuff to people in different ways."
Our customers and partners agree: Craig's not only a smooth presenter, but also a vital part of winning sales campaigns. After a late-night demo, a prospective client wrote:
"I wanted to send kudos to you and your team. I have never seen so much content packed into an hour. It was obvious that a significant amount of effort and preparation went into that presentation. We noticed and it made a very positive impression."
Want to meet Craig yourself: Just click here for an in-depth demo of Adept. If you're anything but delighted, I'd like to know.