Almost everyone seems to know a horror story about a big IT project that became the software equivalent of a Money Pit (a house that needs one expensive repair after another). Just as new products or projects must generate a good return on investment (ROI), so must IT projects.
Synergis has worked closely with several of its largest and most experienced customers to quantify the value of Adept in an engineering workgroup. The information provided, when combined with standard industry metrics on typical engineering activities, can become a powerful persuasive force.
Much of the value of Adept is in streamlining or eliminating existing practices, and in providing new more cost-effective work processes. Quite often, the inefficiencies of existing workflow is invisible, as in "but we've always done it that way."
After the interviews with customers, Synergis took their information and created a spreadsheet that allows anyone interested in Adept to study how it can improve workflow and streamline processes. The results are available in a spreadsheet available for download. There is nothing like accurate, believable numbers — especially numbers with dollar signs — to persuade decision makers to invest in a good project like adopting Synergis Adept.
Several topics were included in the study of Adept and ROI. Let's look a couple of topics in detail.
Faster document access, elimination of recreating lost files.
Adept is a powerful, custom search engine for all your engineering documents. It finds the data regardless of what server or folder, thanks to Adept's unique "wrap around" installation that does not move files or folders from their existing location (unlike how most PLM and PDM products work).
The first tab in the spreadsheet is for calculating the value of faster access. As shown in the screen image below, there are variables to be entered by the user (blue numbers), and results calculated by the spreadsheet. In this example, there are 4 million files that will be organized in Adept, and 2% of them will be viewed or used monthly. Adept typically saves a person two minutes every time they look for a document, so in this example 160,000 minutes are saved per month. The "opportunity cost per person" is set to $100/hour. This figure will vary from one company to the next. At Dow Chemical, for example, opportunity cost is set to $300/hour. Even at $100/hour, Adept will save an engineering group the time equivalent of $266,667 per month.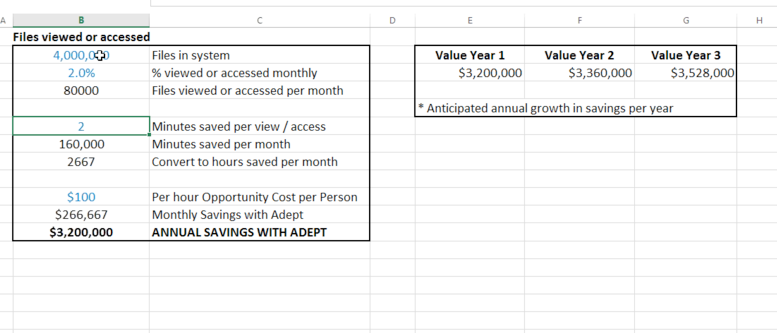 There is a second tab for calculating the ROI of file access. It is a bit less conservative, but also requires more data. You might find it a better method to calculate ROI in your situation. It starts with the number of employees needing regular access to documents (will vary from one company to the next). As shown below, it then requires variables for "% of hours per month per person at 90% capacity," "% of hours per month searching for project files/data with Adept," and "Per hour Opportunity Cost per person."
This alternative method of calculating ROI for file access is based on research that shows engineering team members spend between 20% and 30% of their work day just looking for information.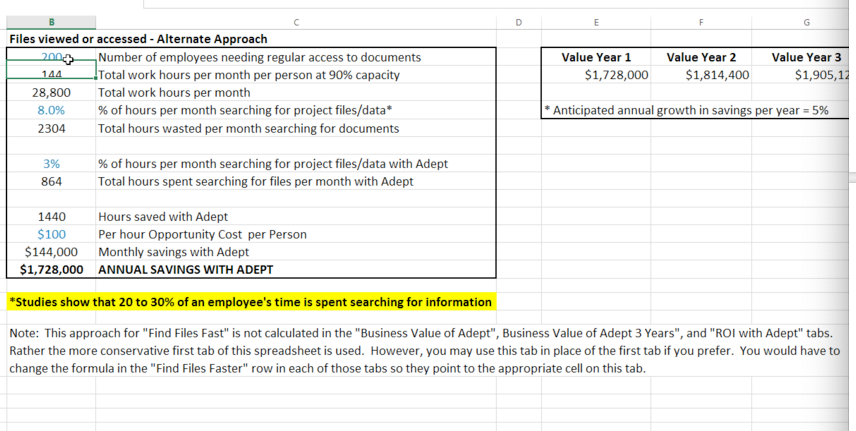 Accelerating project startup or time to market
When a project team — or the entire company — is united on a single version of the truth, it streamlines collaboration and reduces time to handoff. With Adept managing the documents, there is tight integration with CAD, which leads to fewer design errors and better alignment with design standards.
As shown in the spreadsheet tab below, the variables are:
Number of active capital projects per year
Percentage of projects that complete each year
Average duration of a project (months)
Percent reduction in months with Adept
Average number of days plant or facility is operational faster by using Adept.
Gross profit generated per day the plant or facility is operational.
Number of projects completed per year.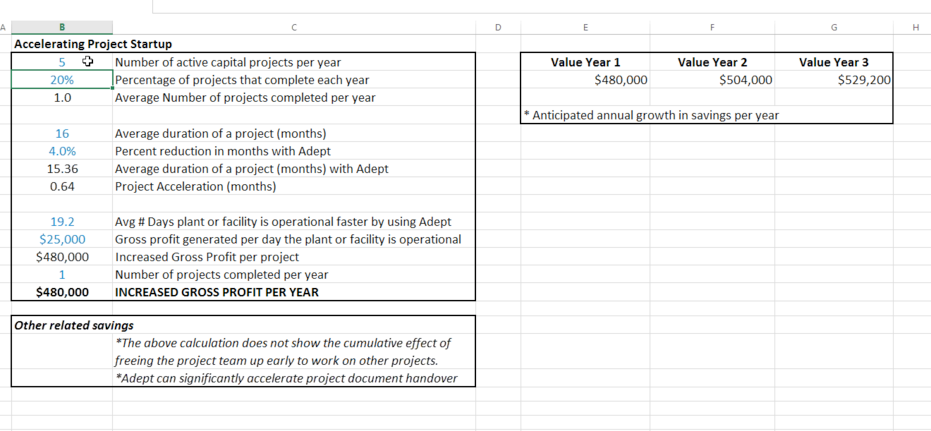 In the example shown, gross profit increased by $480,000 per year when five new projects are launched and 20% are completed each year.
These are only two examples; there are also ROI worksheets for "Avoid Need to Recreate Lost Files," "Reduce Engineering Change Costs," "Protect Intellectual Property," and more. You can view the original ROI webinar here and learn about the other ROI worksheets. In addition you can get a link to download the ROI spreadsheet in its entirety when you watch the webinar video.