Adept for Engineering Drawing Management
Purpose-built integration with multiple CAD systems.
Adept has a PhD level understanding of all the complexities involved with effectively managing engineering information, including 2D drawings, 3D models, and related documentation. Our journey with CAD file management began 30 years ago with AutoCAD—managing versions, supporting XREFs, and extracting attributes into a central repository.
Advanced version and revision control
Reference file management
Bi-directional attribute and property links
Adept inside your CAD system
Easy visualization and markup
Engineering change management
Reuse existing designs
Secure and control your designs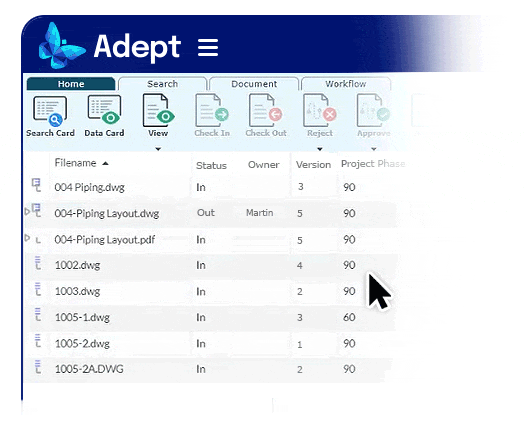 Advanced version and revision control
Get the right version to the right person at the right time.
No more duplicates and expensive mistakes. Adept ensures everyone has access to the correct drawing or 3D part.

Major/Minor versions - Design teams can increment minor versions in a design phase and major versions upon pre-defined approval processes.

References - Control if a parent file references the latest version of a child or is docked to a specific version.

Revisions - Adept can auto-increment your custom Revision number in your title block upon events in Adept, like check in/out or upon final approval.
Reference file & configuration management
Keep CAD relationships intact & see where-used and composed-of details
If your CAD files have references (i.e. XREFs) or if you use Inventor or SolidWorks, you understand the complexities of managing parent-child relationships. Adept ensures relationships stay intact as files are checked in or out, routed through workflows, moved, or renamed. A tree view displays where-used and composed-of information so you understand the impact of any change. You control if new versions flow automatically to parent files. Support includes AutoCAD XREFs, Microstation references, and Inventor or SolidWorks parts, assemblies, drawings, and configurations.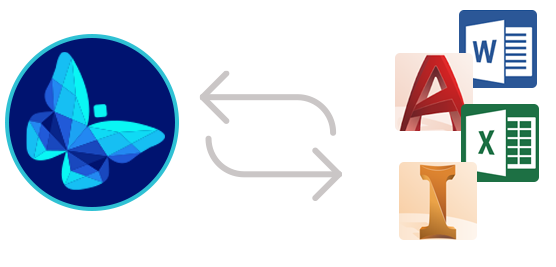 Bi-directional attribute & property updating
Leverage CAD metadata without redundant data entry.
Adept bi-directionally links with attributes and properties from AutoCAD, MicroStation, SolidWorks, Inventor, and more.

Data Extraction - Metadata is extracted from CAD title blocks or properties and is populated in Adept so it can be searched, reported on, and referenced.

From Adept to CAD - Authorized users can push data from Adept out to CAD drawings or models in batch mode, without having to open individual CAD files. Save time and eliminate errors from redundant data entry.
Adept inside Your CAD System
Access the power of Adept from within your CAD system.
Adept runs inside AutoCAD, SOLIDWORKS, and Inventor so your CAD professionals can stay in their CAD system. An expandable Task Pane delivers powerful search capabilities, design preview, check in/out, metadata view, where-used and composed-of tree view, and more.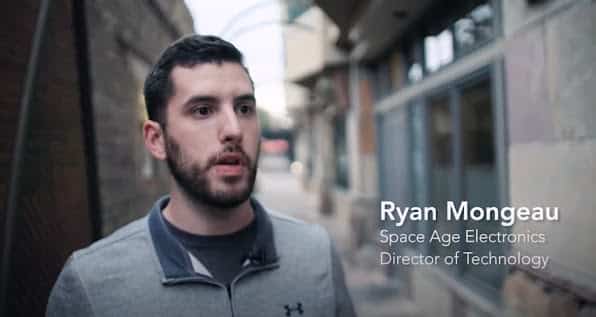 Using the Adept CAD integration task panes drastically improves the design workflow.
Ryan Mongeau
Director of Technology
Space Age Electronics
Visualization & Markup
Universal view and markup from anywhere.
Deliver easy view and markup for drawings, models, office, and graphics formats to your entire value chain. No need for a CAD license, PDF conversion, or separate viewers.
Get fast, digital feedback from the field
Simplify design reviews
Improve collaboration
Streamline your engineering change process
Support for AutoCAD, MicroStation, Revit, Inventor, SolidWorks, Creo, SolidEdge, NX, CATIA, DXF, DWF, PDF, Word, Excel, JPEG, and more.
Engineering change management
Automate engineering change management to save time and money.
Managing engineering change using manual methods is expensive and time-consuming. Adept can automate the entire process including change requests (ECR), change orders (ECO), versioning, approvals and release. Define the flow of work and Adept takes care of routing work through the process, getting approvals, notifying the right people when there is a delay or a final release, and tracking everything along the way. Plus, you have visibility to the status of an engineering change along the way.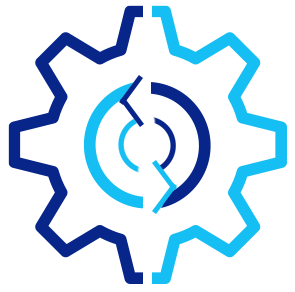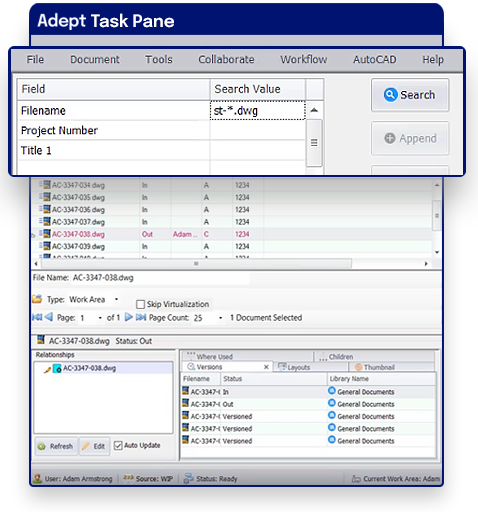 Design Reuse
Find and reuse designs to collapse time and complete projects faster.
Don't waste valuable time recreating designs from scratch when you can easily find and reuse existing designs. You'll get to market faster and save money by using all or portions of existing designs. Adept eliminates the document management chaos that keeps people from finding what they need quickly, and makes it easy to copy and rename some or all of your designs for another project.
Intellectual Property Protection
Vault your designs and protect them from unwanted access.
Adept keeps your drawings and models safe from unwanted access. Documents are securely vaulted and you have granular control over document access. Adept maintains a complete audit trail for each document throughout its lifecycle so you know who did what, when. Protect your proprietary design information and the investment it took to create your digital assets.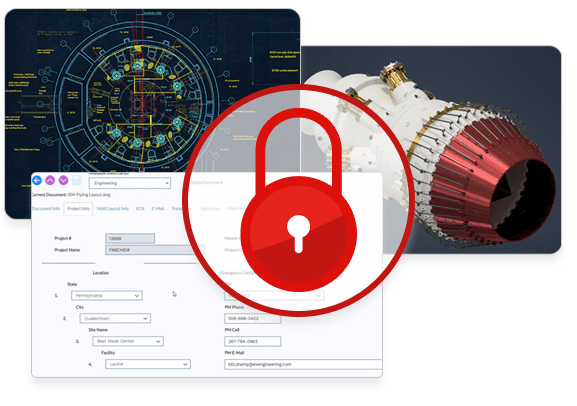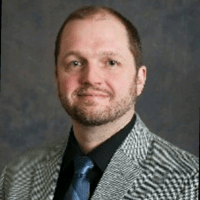 If you are a CAD heavy company looking for file organization that maintains critical file relationships and improves workflow, go with Adept.
Ryan Lick
Design Integration Manager
Lake Superior Consulting
Learn more about Adept's CAD integrations.
Take
control

of your engineering information with software that was designed for you.