In the Wake of a Disaster, Thru-Tubing Systems, Inc. of New Iberia, LA Beats Out the Competition with Adept Engineering Document Management
Company overview:
The New Iberia, Louisiana Company, Thru-Tubing Systems, Inc. (TTS), has been providing specialized downhole services and equipment to customers worldwide since 1997. Forged from the experience and expertise of our seasoned field professionals and engineering staff, TTS has become the leading provider of thru-tubing products and services in the industry today.
With locations in the USA, Asia and Middle East, TTS has always distinguished itself from competition through innovation and strategic management.
Business Goals
To set the standard in downhole operations.
To provide custom engineering support that empowers TTS to deliver industry-leading services that consistently set the standard.
To work with clients around the world to ensure their operations run smoothly and effectively.
We quickly realized what the power of Adept could allow TTS to accomplish. Not only would Adept meet our current needs but we were able to develop, through Adept, a Full Tool Certification / Life Cycle System.
Glenn M Walls
Mechanical Designer / Product Lifecycle Manager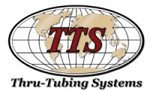 Challenges
There was a high cost due to "Multiplication Errors."
They needed tighter security with multiple locations. TTS management wanted to address the vulnerabilities of documents being accessed and used. Specifically, they wanted to know who was accessing, viewing, and printing files.
It was impossible to access and keep their documents in order using Windows Explorer.
Since the disasters of Hurricane Katrina and the Deepwater Horizon oil spill, TTS's oil and gas clients have gotten very stringent about what they require from their service providers. They want to know the specifications for all tools that TTS delivers.
We had numerous problems with files being stored in the wrong folders, causing manufacturing to order parts from the wrong revision, which cost lots of money.

With Adept, we were able to lock down document access only to approved personnel.

If we get a problem with a tool we can go back and find out every customer that has that tool, and whether it's been run on a job, and if there has been any problems.
Solution
Adept helps satisfy stricter customer requirements and makes it easy to respond to customer demands. TTS uses Adept to track every part back to its material manufacturer. If a particular material has a defect, TTS can go into Adept and find all the parts made from that material.
TTS uses their document management capabilities to differentiate themselves from the competition.
TTS has been able to eliminate errors associated with having multiple files, accessed by multiple locations.
They can leverage the power of information from Adept to gain insights into their business KPIs.
Now that customers are getting more stringent with the requirements, a lot of our competitors are playing catch up. But we are already set up. We are able to produce what the customers require.

We definitely sell our document management capabilities.

TTS is leveraging Adept beyond its well-known engineering and design strengths.

With a simple search, I was able to run a report that showed we saved $17,000 over the last 11 months. This was not easily done before implementing Adept.
Results
TTS uses Adept to respond to customer demands, leapfrog the competition, and win new clients.
Their efficiency is built on doing what they say they do. They can back it up with their testing and documentation verification with Adept.
Adept allows TTS to address service and work area concerns while designing. They step through the whole design process, making notes in Adept.
With assemblies as complicated as the ones TTS manufactures, Adept helps them go from design to production to delivery efficiently.
Adept has helped eliminate errors by getting all of TTS users on the same page.
Now they can pull reports from the Adept-controlled documents quickly and easily.
One of the great benefits of Adept is its ability to keep track of the links when you are in a 3D environment. I might have one part in three different assemblies. It is crucial to know where the part is associated so not make changes that may affect other assemblies in a negative way.

If you want to know how successful Adept has been for TTS – over a decade into it – TTS is still using Adept and thinking of more ways to utilize this simple but powerful tool. It has really become part of the DNA of what we do. Not many things keep me up worrying at night, but if somebody told me tomorrow we could not use Adept anymore, that would keep me up… Adept has definitely been a great investment for TTS.